Business Execution Planning
An organization's strategy needs to be translated into concrete tasks and initiatives to deliver its strategic objectives.  Business Execution Plans ask another set of questions that promote action and effective implementation of the strategy:
What are the targets for each objective?
Who holds the primary accountability for achieving the target?
Who will do what by when to achieve the targets?
The Business Execution Plan specifies the organization's strategic objectives, management and organizational accountabilities, performance metrics, prioritized projects & initiatives, and critical business processes to deliver the objectives. The Business Execution Plan also requires two tools to track progress and reinforce alignment on the execution of the strategy: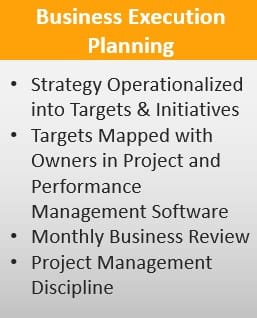 Project management software capable of tracking individual progress across the company on key initiatives and objectives, and
Performance management software highlighting individual accomplishments on assigned objectives.
These two tools provide the focus for a monthly business performance meeting where management evaluates its progress on targets, initiatives, and key performance metrics.
Graham's team always exhibited clear recognition of its goals, ownership of the implementation plan, an ability to successfully implement plans consistent with the organization's values, and an ability to have fun in the process. His approach to problem resolution/performance enhancement can be applied in essentially every type of organizational environment."
Terry L. Lock
Senior Vice President (Retired),
Boise Cascade Corporation